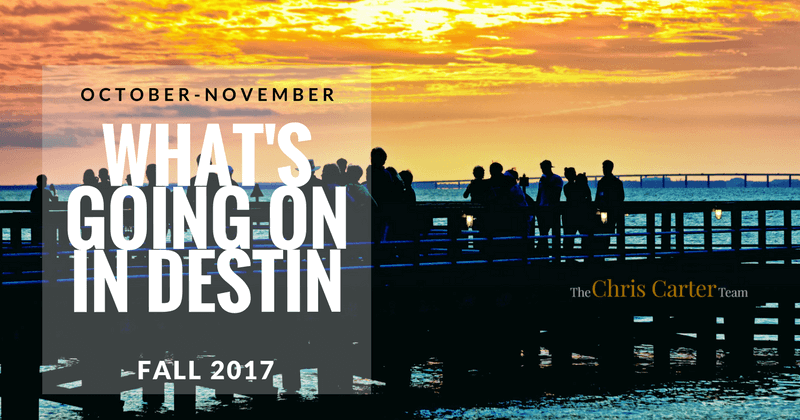 If living in Destin isn't already a good enough reason to celebrate, there's always some kind of event to look forward to in this happening community!
With something taking place nearly every week of the year, there's no wonder why Destin is a top destination for many. Here are upcoming events took look forward during the fall season for full Emerald coast enjoyment!
Destin Fishing Rodeo- October 1-31st
The 69th annual Destin Fishing Rodeo is your chance to partake in the ultimate fishing tournament for saltwater anglers of all ages during the entire month of October. It's a non-profit organization supported by members, sponsors, local businesses, and the fishing community of Destin. Anyone can join if they have their own boats or charter a boat. Participants typically invite their friends and family to watch them bring in a big one! Weigh-ins take place every day on the docks at AJ's Seafood & Oyster Bar from 10 am until 7 pm. It's free to anglers with a registered boat in Destin.
10th Annual Baytowne Wharf Beer Fest- October 13th -14th
The 10th annual Baytowne Beer Festival is known as the "Best Beer Fest on the Emerald Coast". With such a boom in interest in craft brewing, the community comes together to sample some of Destin's best beer. Day one showcases 'Beer From Around Here' taking place in the Village Events Plaza from 6-8pm. Brew testers get to taste samples from breweries like Destin Brewery, Fairhope Brewing Company, Idyll Hounds, and Grayton Beer. Local merchants will put on a display of appetizers to go with the sampling.
Participants will also get to enjoy music by the Forrest Williams Band. On October 14th, the 'Saturday VIP event' will feature exclusive beer tastings from 1-2 pm. Timbercreek Distillery bourbon and delicious menu items from Marlin Grill will accompany this time slot. From 2-6 pm VIP guests have access to the 'Grand Tasting' event where the village turns into a taster's paradise with nearly 200 domestic and international beers. Live music is provided by The Modern Eldorado's and The Moon Lagoons. Hoppy tasting!
22nd Annual Festival of the Arts- October 28th-29th
This two-day event is known to be one of Northwest Florida's premier fine arts shows, welcoming more than 100 juried artists from over 10 states, and a special guest artist coming in from Europe to show-off their best work competing for$10,000 in cash prizes. This event hosts some of the best cultural talents for a two-day celebration of art, music and amazing food. The event starts Saturday from 9 am -5 pm and Sunday from 10 am-4 pm. Tickets are $5/adult and free for kids under 12.
Sparkling Wine and Holiday Lights- November 18th
On November 18th from 4-6pm, the Sandestin Golf and Beach Resort invites you to walk through the charming streets of the Village of Baytowne Wharf, while sipping champagne and sampling featured menu items. The streets will be decorated with twinkling lights and greenery, and guests will get a sneak peak of the Christmas tree lighting. Come out and enjoy more than 30 champagnes with festive sparkling lights!