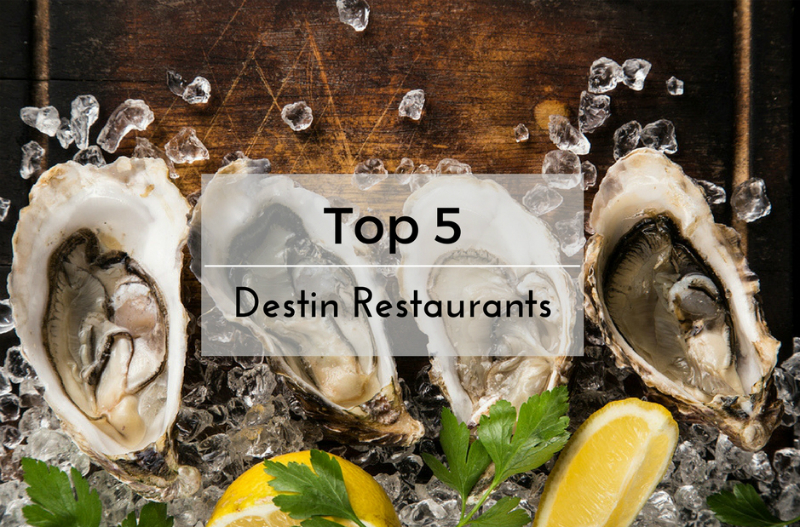 For many, Destin is a vacation destination. After landing on the tarmac and stretching their cramped legs, weary travelers often head down to the beach to soak up the sun on the sandy shores of Florida's Panhandle. Others head straight for the Destin Harbor on a mission to catch one of the lightning quick wahoos that live in the water. Perhaps one of the greatest ways to enjoy all that Destin has to offer is to follow your nose to some of the finest restaurants in the area.
Destin offers a vibrant and eclectic dining scene unlike you'll find anywhere else in the world. Whether you're a guest or a long-term resident, next time you're hankering for a quality dining experience, check out one of these local eateries.
The Back Porch
You don't get much closer to the beach than The Back Porch. This seafood and oyster house specializes in Gulf-caught fish. As their website says, "If it lives in the Gulf, you will most likely find it on our menu." From the pecan snapper, to grouper and grits, to tuna, to shrimp and crab linguine, their menu is richly varied, and this is just one of the things that's made them a local favorite for more than 40 years. The popular seafood spot is also known for inventing the chargrilled amberjack sandwich. Developed by General Henry Cobb, this delicious fish is their signature dish.
So, swing by and pull up a seat on the patio where the ocean breeze tickles your skin and the sand is just steps away. You might even catch a glimpse of one of the feline "taste testers" that roam the area. They'll confirm whether or not the tuna is purrfect or not.
Harry T's Lighthouse
At the mouth of the Destin harbor, find a two-tiered diner done up in yellow with a landmark lighthouse painted like an argyle sweater poking up from the roof. Harry T's Lighthouse isn't just an All-American family affair, it's also the only circus-themed business on the coast.
Inspired by the life of famous trapeze artist Harrison Babe, who was known to his fans as "Flying Harry T," the restaurant opened in 1987. As such you'll find a massive stuffed giraffe at the entrance, circus-centric memorabilia, and a menu playfully titled "The Big Top Times." Today, the restaurant makes a popular wedding reception venue.
The Louisiana Lagniappe
Like The Back Porch, this oceanfront restaurant has a reputation for delivering only the freshest local seafood. However, as the name suggests, this menu comes with a Creole twist. Étouffée, jambalaya, and New Orleans-style barbecue all make an appearance on this menu.
Here, five-star service meets casual dining. It has for over 30 years. They even have a second location in Orange Beach, Alabama if you've taken a day trip up the coast.
McGuire's Irish Pub
There's no question that McGuire's Irish Pub has character. Close to a million one-dollar bills are pinned to the ceiling creating a furry coat of George Washingtons above. Regular live music, an on-site brewery with six unique brews, and a comprehensive wine cellar, makes this a great place for a fun night out on the town. Their menu offers an affordable range of pub style foods and their famous Senate Bean Soup which only costs $0.18.
Zoës Kitchen
If you're feeling that pint you had last night at McGuire's, it might be time for a healthy twist. Zoës Kitchen is a chain of casual, affordable, Mediterranean cafés. The Mediterranean diet incorporates plenty of fruits, veggies, and healthy fats. If you're vegetarian, gluten free, or vegan, Zoës is a great choice. One of the founding principles of this hip joint is, "If it wasn't food 100 years ago, it isn't food today." As such, only the natural flavors you'd find in your grandmother's kitchen make an appearance here.
From fresh Gulf seafood, to circus and Irish themed venues, to fine dining, to healthy eating, there's no shortage of places to explore when it comes to Destin restaurants. So, what are you waiting for? Grab a friend and embark on a culinary adventure.