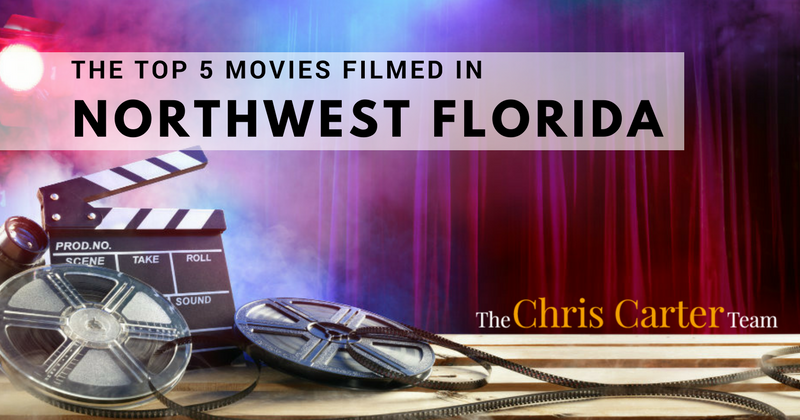 Destin and the stunning Emerald Coast of Northwest Florida are undoubtedly gorgeous. The pristine sandy-white beaches, aqua-marine waters and ever-present tropical sun combine to create an unreal setting to create family holiday memories to last a lifetime.
This part of Florida boasts a pleasing selection of sleepy, small oceanfront communities like those found along the scenic 30A coastline, as well bustling resort and fishing hot spots like those found near the end of the panhandle in Destin. This diversity hasn't gone unnoticed by home buyers, or the location scouts of some of Hollywood's most enduring classics, and a few duds as well.
Let's a take a blink-and-you'll-miss-it look at the top 5 movies filmed in Northwest Floirda. See if you recognize any locations upon viewing!
Dr. Strangelove (1964)
Eagled-eyed viewers will immediately recognize Destin Harbor as well as a portion of Holiday Isles in a short aerial clip early on in the film. The cinematic classic tells the story of B-52 pilots during World War 2. Perhaps most interesting for modern viewers is the vast change that has occurred to the landscape along the coast of Destin Harbor in the years since the movie was filmed in 1964.
Directed by Stanley Kubrick. Starring Peter Sellers & George C. Scott.
The Truman Show (1998)
This Jim Carrey star vehicle was filmed in Seaside, Florida. In the film, Carrey's character is the unknowing subject of a reality show, documenting his life from birth. Producers of the movie were looking for an idealistic, "perfect" small-town setting to act as his hometown, and Seaside fit the bill. The oceanfront community along the scenic 30A coastline has many examples of its distinct architectural style clearly visible in the movie.
Directed by Andrew Niccol. Starring Jim Carrey & Ed Harris.
Transformers 3: Dark of the Moon (2011)
More recently than some of the entries on this list, Northwest Florida played host to Michael Bay and his crews for the latest installment of the highly successful Transformers franchise. Locals may have spotted crews taking up residence on many of the beaches of the Emerald Coast. Other notable scenes were shot at the Northwest Florida Regional Airport and Hurlburt Field, just outside of Fort Walton Beach.
Directed by Michael Bay. Starring Shia LeBeouf & Tyrese Gibson.
Jaws 2 (1978)
The original film was filmed in the same Cape Cod location where the film's plot was set, which proved problematic at times due the unruly weather conditions. For the sequel, various locations along the Northwest Florida panhandle served as a replacement for Cape Cod, including Destin Harbor and Choctawhatchee Bay.
Directed by Jeannot Szwarc. Starring Roy Scheider & Lorraine Gary.