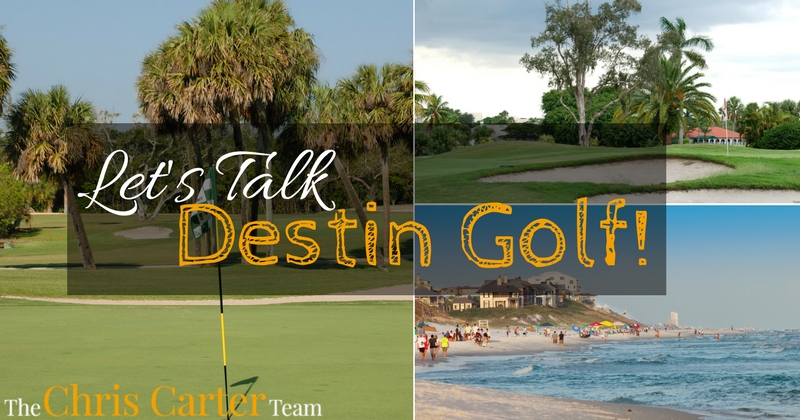 In Destin, Northwest Florida revered golf courses are located along more than two hundred miles of stunning coastline. From rolling fairways and contoured greens, to menacing sand traps and water hazards, Destin is one of the best places on the Emerald Coast for the ultimate golf experience. The Destin regions' many championship designs offer outstanding natural settings, rolling dunes, varied elevation, and phenomenal scenery. Each of these golf courses extend a unique golf experience that is unrivalled by other regions in the nation. You'll find courses that are as varied as their location, and are situated in the most outstanding climate for year-round play.
Just east of Destin, the Sandestin Resort Golf and Beach Resort boasts four of the most impressive championship golf courses in the U.S. Both Destin and Sandestin are inexorably intertwined. In the late 1970s you could count on one hand the number of courses available in this sleepy little community. Today more than 1,100 holes of golf, and several resort and estate communities, offer a variety of Destin courses and Destin real estate, that is truly unique to this major family and golf destination.
Burnt Pine Golf Club
An unrivaled experience on Florida's northwest Gulf Coast, Burnt Pine Golf Club is proof that Rees Jones is one of the most respected course architects in the world. Named "Crown Jewel of Florida Golf" by Golf Magazine, this 7,000-yard expansive layout challenges golfers to use a different approach to every hole.
The front nine walks golfers through mature pine forests flanked by stunning small lakes and ponds, while the back nine highlights the breathtaking views along the Choctawhatchee Bay. Discreetly tucked away, Burnt Pine estate homes are occasionally in view across the fairway hugging pond, and along the back nine grand Sandestin luxury condominiums come into view.
The Raven Golf Club
The Raven Golf Club is a natural wonder that presents drama and strategy to every tee. Guests are presented with a multitude of exciting shot options while experiencing striking changes in color and composition throughout this course. Robert Trent Jones Jr., crafted this unique and visually stunning 6,900-yard course into a Modern Links Style.
Players will have to adjust their playing style in order to shine on this course. Rated at a 4.5 out of 5 stars (by Golf Digest Magazine) the Raven is masterfully carved. Combined with its large undulating greens and its nationally renowned guest services, this golf club in Destin, Florida is a must play. Communities such as The Village of Baytowne Wharf, Genoa, and Island Estates offer amazing views of Raven Golf Club.
Learn More About the Raven Golf Club
Baytowne Golf Club
Just east of Destin on Florida's Emerald Coast, is the ever popular Baytowne Golf Club. The front nine heads north into a resort-style environment, bringing you close to the buzzing village of Baytowne Wharfs. The back nine travels south to within a few hundred yards of the Gulf of Mexico. Along the Emerald Coast Parkway (Hwy 98) the tight villa and condominium-lined tee holes are exceptional.
Admired as one of the finest courses created by designer Tom Jackson, Baytowne features some of the only elevation changes for any golf course in the South Walton, or Destin area. Excellent for all skill levels, the Baytowne course is as forgiving from the forward tees as it is from the championship ones. You'll be happy to know that some neighborhoods close to Baytown Golf Club include The Village of Baytowne Wharf, Del Mar, and St. Andrews.
Learn More About Baytowne Golf Club
The Links Golf Club
The Links Golf Club, opened in 1973, is the original course at Sandestin Golf and Beach Resort. Once again Tom Jackson makes his mark by creating a course that will make you feel inspired as you outplay the Gulf Coast winds, along the emerald green Choctawhatchee Bay.
With five bayside holes to challenge even the most experience golfers, this link-style course plays from 4,897 to 6,710-yards with four tee options. Many of these holes hug the Bay's shoreline and bordering wetlands so you'll certainly enjoy the stunning coastal views, and great scenery along the way. A great selection of homes, such as Old Town Cottages, are a cart ride away.
Learn More About the Links Golf Club
Whichever one of these golf courses you choose, be assured that you will have an exceptional experience in the community of Destin and Sandestin. This resort is situated on more than 2,400 acres of prime Northwest Florida real estate. Sandestin is a single strand of beautiful beaches on the shores of the Gulf of Mexico to the west, and the quiet waters of Choctawhatchee Bay to the east. Destin real estate is all things to all people. The beaches are beautiful, the shopping is extensive, and the golf is superb. This makes it the ultimate investment for singles, families, and retirees who want a wonderful community to call home.