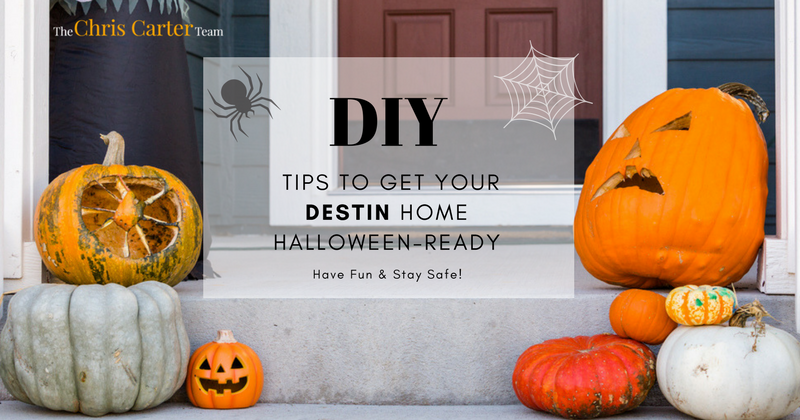 'Tis the season for trick-or-treating! Your Destin home might not need a costume or a Halloween party, but it will need to be ready for all the neighborhood ghosts, witches, supermen, and goblins who will be stopping by for a little Hollow's Eve treat. If you're planning on participating in the festivities this year, try these tips to ensure a safe and fun night to be had by all!
Read more on how to make your house awesome for Halloween in Destin!
Setting the Scene
Halloween isn't complete without a haunted setup or decorative effort of some kind! Here are some easy ways to make your house look haunted and spooky:
Lights: Dim the porch lights and entryway fixtures with red, orange or green bulbs to create a creepy ambiance. Don't forget to light up the pathways for your guests and trick-or-treaters.
Shady Characters: Try placing scary props in the windows! Even better if you can program your window shades to reveal spooky Halloween Scenes!
They're alive! Investing in Halloween props and lights with motion sensors are a great way to animate the property. Oh, what a fright it'll be!
Go-to-Town: Don't be afraid to cloak the property with decorations. Buying dozens of little pumpkins is an easy way to show the neighborhood you're celebrating. Whether you carve them or not, that's up to you! Corn stalks, ghost balloons with sheets, orange Christmas lights, festive banners… the list goes on. Don't forget to blast a ghoulish playlist throughout the house! Placing your flat screen with a spooky film on in site of passersby will add to the theme as well!
Clear the Way
No matter how much décor you have on your property, make sure that the pathways leading to your house are clear and easy to navigate. Tripping hazards are the last thing anyone wants to deal with on a night out! Make sure to move all items like kid's toys, garden hoses, and plants from areas where people will walk. Sweeping away any kind of debris will also help anyone from slipping on the grounds.
Light the Way
The best way to show the neighborhood you mean business is to light it up! Turn on all the lights to help people find you. Adding extra lights such as solar lights in gardens and battery-operated lanterns is an easy way to find the candy right away!
Secure the Eve
Sometimes things can get a little out of control on Halloween, but here are some quick tips on staying extra safe for the night:
Avoid making treats to hand out. If you do, make sure to include your phone number in the bag of goodies. Avoid any dietary liabilities!
Use battery operated candles or flashlights instead of candles. It's amazing how authentic battery-operated candles look these days!
Contain your pets. It doesn't matter how nice your pets are, you never know what could happen, especially if fireworks are going off in the neighborhoods.
Park your car in your garage for the night. If you don't have a garage, perhaps consider parking it away from all the action. Avoid the bad apples who might want to break in to your vehicle.
Beware of Bedtime
This year, Halloween falls on a Tuesday and most of us have to go to work the next day. Setting up a lighting control system to schedule lights to turn off when you're ready for bed will stop the late-night trick-or-treaters from disturbing your slumber.