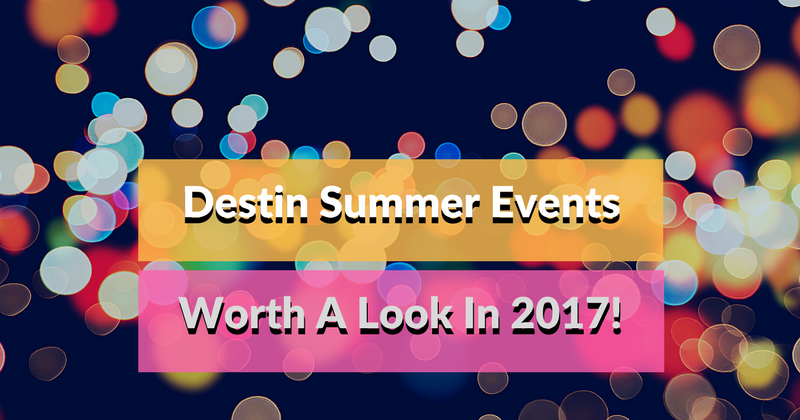 Destin, FL is not only one of the best places in the world to live, it is also home to some amazing summer events and festivals. Many people come to Destin for the spectacular beaches and golf courses, but sometimes a change of pace to the daily routine can be good for the soul!
The list of events below is just a sample of the many activities going on this summer. From a Possum Festival in Wausau to the Pepsi Gulf Coast Jam in Panama City Beach, the range of events offered are sure to enhance your Destin, FL adventure this summer!
Summer Concert Series – Panama Beach
This Summer Concert Series showcases some of the best local bands and entertainment in the area. Located at Aaron Bessant Park Amphitheater, this free concert takes place from 7PM – 9PM every Thursday night. The last concert will take place on August 10, 2017, so plan ahead to ensure you don't miss this fun-filled event! Make sure you bring lawn chairs or a blanket as you will be sitting outside soaking in the atmosphere. The line-up for the rest of the summer includes:
July 13 – The OG's (The Original Gentleman) – New Orleans Funk
July 20 – Eric Lindell – American Roots Rock
July 27 – Fish Out of Water – Rock, Funk, Reggae
August 3 – Ivan Neville – Louisiana Music Royalty
August 10 – Aces and Eights – Classic Southern Rock
Read more about the Summer Concert Series in Panama Beach!
48th Annual Wausau Possum Festival
This is a festival for the whole family, and just one hour from Destin, FL! The day starts with a 5K run and then a pancake breakfast to follow. Not a runner? No problem! Walk the 5K, or cheer on your fellow Possums from the sidelines! The day continues to excite with a parade, a corn pone baking contest, a hog callin' contest, and possum stew. There are also arts and crafts booths and food venders selling some of the best down home southern food you will ever taste! Local bluegrass and country bands will be on site to keep you dancing the night away!
Find out more information about the 48th Annual Wausau Possum Festival!
Pensacola Comic Convention
The Pensacola Paracon is a convention for all things paranormal! If you are a sci-fi fan, into horror movies, love gaming or just want a meet-and-greet with some awesome celebrities, then this is the event for you! There will be gaming demonstrations, costume contests, tournaments, and competitions. The convention is open from 10AM–6PM on August 18-20, 2017. The celebrity guests include:
Corbin Bernsen - L.A. Law, Psych, The Dentist, Major League
Scott Steiner AKA Big Poppa Pump - Pro Wrestler
Broward Batman and 4Kids in Need
Hector David Jr. - Power Rangers, Samurai Percy Jackson, The Olympians: The Lightning Thief
Martin Klebba - Pirates of the Caribbean, CSI, Scrubs, Bones, and Charmed
Ann Marie Crouch - Princess Shayla Ann Marie Crouch
These are just a sample of the celebrity meet-and-greets going at the Pensacola Comic Convention. Bring your friends and family to this 3-day fun-filled event! A portion of the proceeds will benefit The Ronald McDonald House and other various local charities.
Click for more details about the Pensacola Convention
Pensacola Home & Product Expo
If you are looking for ideas to spruce up your home then be sure to check out the Pensacola Home & Product Expo happening August 18-20, 2017. The Pensacola Bay Center is hosting this event. With over 100 exhibitor spaces you will be sure to find something that interests you. Vendors will be showcasing the latest and greatest in home décor including:
Granite counter tops
Hardwood flooring
Custom tiles
Upscale kitchens
Landscaping tips/ideas
Home theaters
If you are thinking of selling a home, this Home Expo will give you insight into what buyers are looking for. If you are looking to remodel, then the latest trends will be on display for you to peruse at your leisure. No matter the reason, you will find inspiration at the Pensacola Home & Product Expo!
Get more information about the Pensacola Home & Product Expo
Pepsi Gulf Coast Jam
The Pepsi Gulf Coast Jam is a country music festival held in Panama City Beach, Florida over the September long weekend (September 1-3, 2017). Plan ahead for this festival weekend as accommodations book up fast! Tickets are available in 1-3 day passes with a fantastic line-up of country music. This year the headlining acts are Jason Aldean (Friday), Little Big town (Saturday), and Luke Bryan (Sunday). The festivals hours are from 2PM to 12AM daily. Be sure to get there early to ensure you get a good seat!