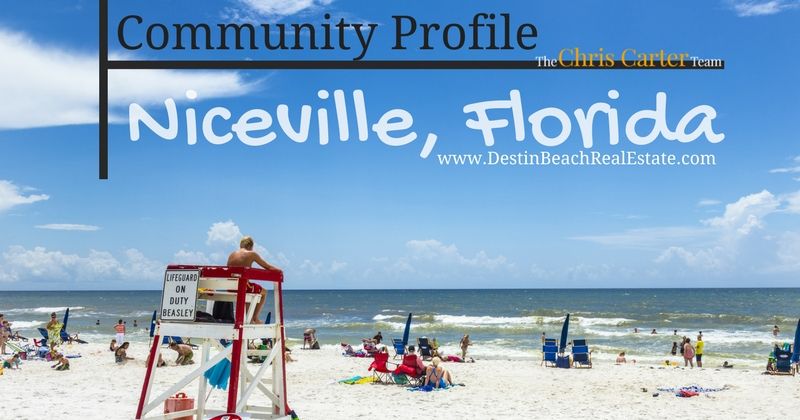 The cheerful town of Niceville, Florida is a close-knit community known for its outdoor recreation. Just off of Choctawhatchee Bay, people from all over the world come to enjoy warm rays of sunshine and soft, endless beaches of this beautiful city. It's perfect for people of all ages, especially families with children.
Niceville, Florida History
In the early 1840s, the area that is now Niceville was discovered by a man named William Nathey. From England, Nathey settled comfortably into Boggy Bayou and called it Boggy. Boggy Bayou is located in Choctawhatchee Bay. Over a number of decades, he was responsible for establishing places like the gristmill and other historical sites. The gristmill was an old mill that contributed many jobs to the community; the site is still a tourist draw, located near Trout Lake, though the mill itself is no longer standing.
The town was officially named Niceville on November 5, 1910. With the improvement of roads and a growing population in the area, the little town began to grow, quickly becoming popular due to easy access and white sand beaches. Historical activities that are still active today included fishing, swimming, and boating. Two of the most profitable job markets were commercial fishing and shipbuilding. The heritage of fishing in Niceville is celebrated each year in a Boggy Bayou Mullet Festival.
Community Highlights
The lovely community of Niceville has always been known for its recreational fishing industry. Bays, inlets, shoals, and other prime fishing areas can also be utilized for recreational boating or jet skiing. Aside from the fishing, there are a number of accessible and breathtaking nature trails and parks. Golf courses and classic brewery pubs are also popular favorites of both locals and vacationers.
Despite its small town vibe, Niceville has an impressive number of schools to choose from, from elementary to high school. There are also private schools and public charter schools available. Children of all ages can even enjoy a sailing club, a tennis center, and a swim team.
Niceville, Florida Real Estate Market
The real estate market of Niceville, Florida consists of luxury and beach front houses ranging from $200,000 to more than $900,000. Some of the higher end luxury houses are on the market for over a million dollars. Condominiums and single-family homes dominate the market, making this an excellent community to raise a family. Modern and unique, many houses are affordable for first-time buyers or people who are looking for a fantastic vacation spot.
Niceville Amenities
Arts theaters and brewery pubs are a great draw for both tourists and locals. Yoga, antique stores, and parks give Niceville an authentic vibe. A museum commending the U.S air force depicts the beginning of aviation warfare between World War one and the present day.
For underwater adventures, snorkeling and charters are always a popular choice. Fishing in Niceville draws people in from all over the world, and there are plenty of ways to have a great day out on the water.
There are a myriad of excellent shopping opportunities from large shopping centers to eclectic local art. Boutiques, movie theaters, fine dining, and year round events are just some of those opportunities, with many more to be discovered!