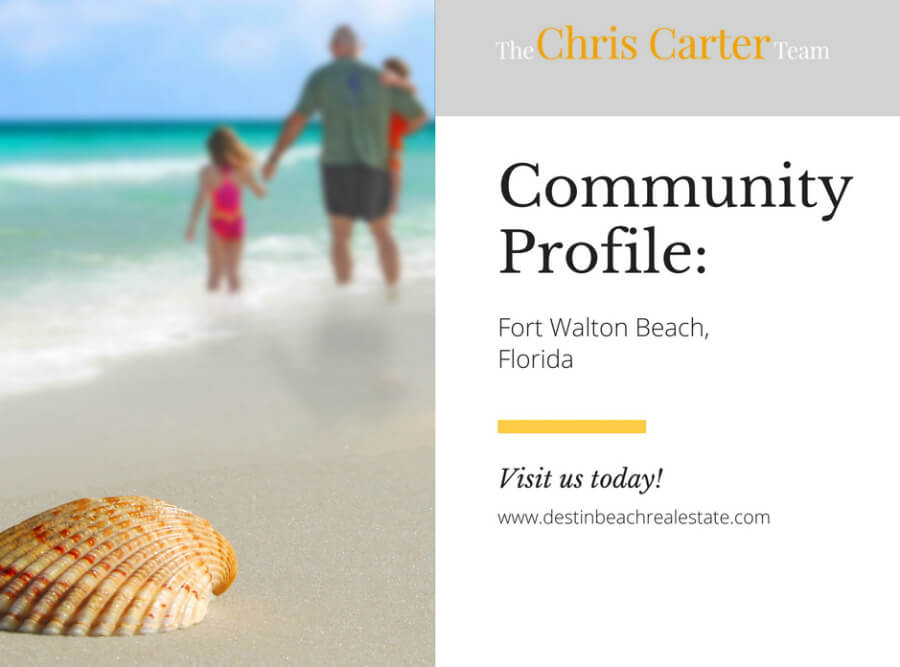 The north Florida community of Fort Walton Beach is well known for its year-round fishing and the numerous resorts that dot the city's shores. This community along the Emerald coast has all of the convenience of a buzzing urban center with all the charm of a seaside vacation town.
Learn more about Fort Walton Beach, below!
History of Fort Walton Beach
Fort Walton Beach was first settled by the Spanish in the 1500s and was occupied by the Spanish for close to 300 years until it came under English rule. The small city's history is rich with stories of pioneers, military encampments, and adventurous seafarers. Some even speculate that pirates once perused the area. It wasn't until 1953 that the settlement named itself Fort Walton Beach, and since then, it's grown to be a thriving seaside resort town with a population close to 20, 000.
Community Highlights
This small waterfront town is community minded to say the least. Regularly, you'll notice residents gather to support local fundraisers. Family events are popular too! Touch-A-Truck allows little ones to get up close and personal with some of the more unique working vehicles in town from firetrucks to bobcats. There's also numerous events where adults can meet up for a fun paint night or cooking class.
When it comes to schools, parents and children have options. A blend of high schools, middle schools, elementary schools, charter schools, prepatory schools, and even a ballet academy ensure that school-aged children will be able to find an institution close to home that fits their unique learning style.
Fort Walton Beach Real Estate Market
The Fort Walton Beach real estate market predominantly consists of detached single-family houses. The most luxurious of these are located along the waterfront and can sell for upwards of a million dollars. The average home, however, sells for approximately $300,000 and offers residents ample space to raise a family in an attractive, modern, suburban home. If you're a first-time home buyer or your passion is flipping houses, you'll find a nice selection of homes can be purchased for under $100,000 as well.
Appealingly Temperate Climate
Located along the north shore of the Gulf of Mexico, one perk of living in Fort Walton Beach is the superb weather. On average, summer temperatures range in the early eighties, and winter temperatures rarely dip below fifty degrees. Most days are made up of blue skies and sunshine with just enough rain in the mix to help keep lawns and foliage green.
Things To Do
When it comes to shopping, residents of Fort Walton Beach rarely struggle to find what they're looking for. The centrally located Uptown Station Shopping Centre contains a number of restaurants, clothing retailers, and specialty shops. On the west end of town, Sun Plaza has a movie theatre, grocer, hardware store, and other useful shops.
The area is also a popular place amongst those who love to take their boat out and fish. With easy access to the Cinco Bayou, Santa Rosa Sound, the Choctawatchee Bay, and the Gulf of Mexico, there's no shortage of waterways to explore. If you love to fish, catch everything from red snapper, to grouper, to pompano, to shark, to sailfish. In a place where almost every day is sunny, enjoy some smooth sailing and take home an impressive catch of the day.
Should you ever want to leave the city, a short drive over the Brooks Bridge will take you to the beautiful Okaloosa Island where you'll find some of the best beaches in the area, and a drive east along the Panhandle will take you to the seaside communities of Destin and Miramar Beach where you'll find an excellent selection of seafood restaurants.