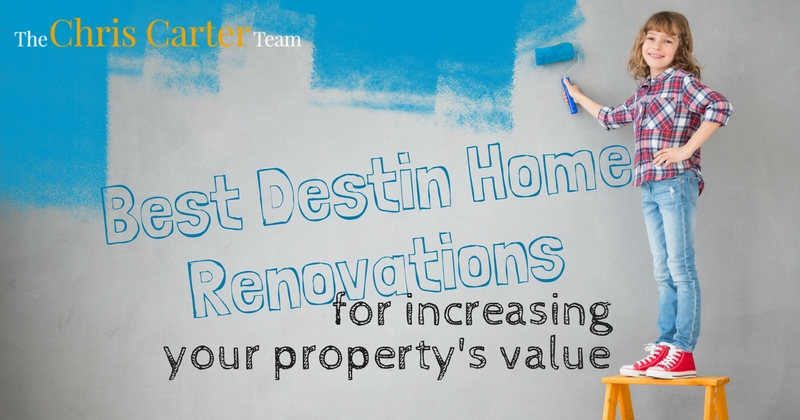 How To Increase Your Property Value!
Are you ready to sell your home?
Competition in the Destin real estate market can be stiff, and a few home improvements can make or break the sale of your Destin, Florida home. The right renovations can increase the value, but knowing which renovations will give you the biggest bang for your buck is vital.
If you're thinking about sinking some money into home improvement projects this year, keep a few things in mind:
What you'll get back on your investment depends on the value of your house
The value of houses in your immediate Destin neighborhood
The housing market in Destin, Florida
How soon you sell after making improvements
The quality of the project itself
Certainly, making home improvements can be for your own enjoyment, but when it comes time to sell, whether that be five years or twenty, it's a bonus if those same renovations can add value to your home and increase its salability.
We'll suggest you to take a look at your budget first. If a $20,000 kitchen reno is not in your budget, there are many other very basic things you can do to show your home in its best light.
If you have any questions about what are the best renovations for your Destin home, contact Chris Carter at The Chris Carter Team to find out current community trends, what home buyers are looking for, and real estate prices in your area!
Here's what we want you to know!
#1 Don't Put Off Basic Care and Maintenance
Although a new kitchen or bathroom may seem like a great reno idea, these will lose their glamour quite quickly if there is water in the basement when a potential home buyer comes to look at your house. Every homeowner's first priority should be keeping the existing structure of their home sound. According to Remodeling Magazine, you are less likely to recoup your investment in a major kitchen or bath reno, than you are to get back what you spend on basic home maintenance such as new siding, windows, updated furnaces, or roofs.
#2 A Little Paint Is Miraculous
You'll be told time and time again that new paint can change the whole feel of a home! No one is lying to you when they are telling you this. Paint is one of the least expensive ways to freshen and improve your home's look, and consequently its value. If you're getting ready to put a house on the market make sure you're looking at the exterior as well as the interior. Trim and associated elements such as decks or sheds shouldn't go un-noticed. Buyers want to be able to project their own ideas onto a space, and sellers can help with sprucing up with paint.
#3 Curb Appeal And First Impressions Count
If your house doesn't look appealing from the outside, chances are a potential buyer will never make it inside. Don't underestimate the power of first impressions. A great first impression is imperative, especially now that more REALTORS® are using marketing such as virtual tours. Don't forget that homebuyers may also be searching your home address with Google Maps.
#4 What's Under Your Feet?
Flooring is one of the most important aspects of your house. Don't undervalue the materials you're standing on. Over ninety percent of real estate pros will recommend spending some money on flooring. You don't have to spend a great deal of money. If you already have hardwood floors, you may consider refinishing these floors at a lesser cost. For the bathroom, tile will always be in demand and it retains its value exceptionally well.
#5 Kitchen Upgrades Definately Make A Difference!
Kitchens are the single most important room in the home relating to valuation. Upgrading the kitchen in your home can make a significant difference in its value. Whether you create light by knocking out non-structural walls, or upgrade cabinetry and counters, the likelihood is you will not lose money on investing in a kitchen upgrade. An updated kitchen appeals to a buyer's emotions, and a homeowner's wallet, because if done correctly, it can give you close to a 100 percent return on your investment.
Remember, even the most modern and expensive renovation will be considered dated in fifteen years. It's difficult to anticipate how much return a homeowner will reap when the time comes to sell. Although it's important to know the facts about which home renovations will bring in the most return when it comes time to sell, it is equally important to consider which of these home renovations will gain you the most pleasure.
Keep in mind, until the day comes when you sell your home, it is you and your loved ones that will be enjoying the investment.
If you are exploring the option to sell your home contact the REALTORS® at The Chris Carter Team. We will help you evaluate what home reno will be most beneficial when you choose to list your Destin home for sale. Let's talk about home renovations to increase the value of your home.