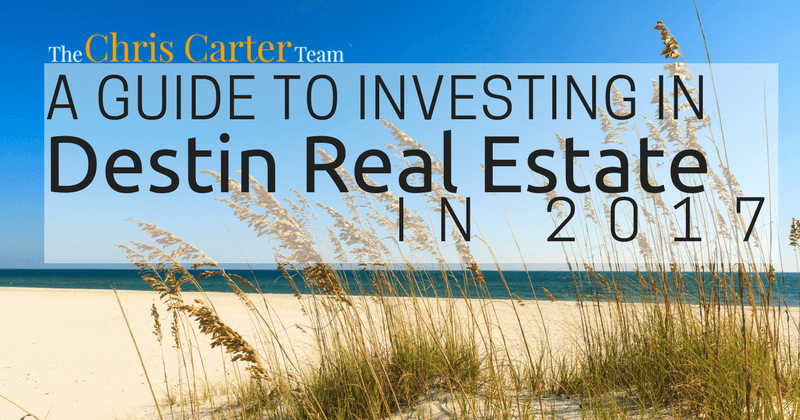 People have always flocked to the sugary white sandy beaches and the amazingly emerald gulf waters of Destin. Once a quaint fishing village, this tight-knit coastal town has developed into a top tourist destination. People who find themselves drawn to Destin real estate appreciate the fact that there's not one hotel to be found in the Destin city limits, inspiring many to buy and invest in prime real estate and vacation properties. Whether you're a local, or from out of state, Destin real estate is some of the finest in Florida.
Here are some tips on how to buy in the Destin real estate market.
1. Consider All of Your Options
There's only one way to find your dream property and that's to treat your search like a pastime! Before you roll up the other sleeve, check out the sold listings to see what is hot in the market, as well as what else is available in the Destin real estate market. By getting a solid sense of price trends and history, this will help with your buying journey. The more thorough you are, the better you'll feel about your decision.
On our DestinBeachRealEstate.com, you'll be able to save and favorite listings for future reference. You can also check out our recently sold section, and new developments in the Destin real estate market.
Don't spend too much time weighing out the investment potential of each property that intrigues you. Speak to one of our agents for an expedited effort in finding what's best for you. Also, remember that not all sales are listed publicly!
2. Let The Chris Carter Team Carry the Weight
It's what we are here for! Let our stellar group of professional real estate agents help you with your Destin real estate journey. Make a list of what you're looking for and leave the rest to us. We work diligently to keep you updated in real-time, as soon as desired listings become available. You can access this service by calling us at 850.865.7975 or clicking here.
Here are 5 reasons why you should buy your Destin real estate with The Chris Carter Team:
Fast access to all the listings
We are well-versed in the details and facts on properties you desire
We'll go to bat for you, negotiating the best possible outcome with our professional agents
Help you expedite the financing of your home
We'll ensure a solid investment that will likely pay off for you in the future
Essentially, as your representative, we're here to save you time, find you the best property and get you the best deal. We are dedicated to providing you with important information about the properties you're interested in. It's our job to inform you of the current market condition, HOA communities, insurance, home inspections, and closing costs.
3. Understanding the Nature of Your Property
Investing in Northwestern Florida real estate is extremely attractive for many people. Why are so many people flocking to invest in Destin? Buyers have the chance to purchase in the low ebb in the Destin real estate market, allowing to buy low, and eventually sell high. There's also a great advantage of the increasing rental income that's usually anticipated in this highly-coveted area. Positive cash flow is typical for investment properties in Destin.
If you're investing in a vacation property, you'll get to visit a place in Destin that you can use up to 2 weeks a year to do repairs and overall maintenance while still getting all of the tax deductions! Destin is the home of some of the nicest white, sandy beaches in the world!
Because of the location, buyers should be conscious about what kind property they're investing in. If you're buying a vacation or investment property here are some things to be familiar with:
Less bookings means negative annual returns
You might not be able to visit as much as you'd like to
Repairs and upkeep can pop up at any given time
HOA dues always increase
Vacation homes don't always go up in value
Remember: Destin is a coastal paradise, but don't let that trick you into thinking our beautiful state is exempt of rough weather. Major floods and hurricanes do happen here and we advise all buyers to be well-prepared with homeowner's insurance. Insurance should be lower if you buy a home built in 2002 and up, due to properties being built to the latest building code regulations. The Chris Carter Team is here to assist you in finding the perfect insurance company for your home, as well as scanning homes that may be flagged as difficult to obtain insurance.