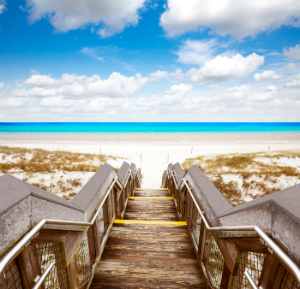 As a homebuyer, when you imagine buying beachfront property, you see the ideal. Endless banks of windows overlook the Gulf of Mexico. A sweeping floor plan encompasses thousands of square feet, a gourmet kitchen, luxury finishes, and an oceanfront pool. In your mind's eye, each morning you might stroll down to the beach where warm waters lap at the shoreline just waiting for you to sink your toes between the sand or speed off in your motor boat.
While there certainly is Destin waterfront real estate like this, the homebuying process isn't as simple as selecting your dream house from a catalogue of picture-perfect estates. That's why an experienced Destin real estate agent can be invaluable when you're investing in beachfront properties.
Here are just a few of the things a trained Florida real estate agent will take under consideration when you're purchasing a Destin waterfront home.
The Boundaries
When you're dealing with a waterfront property, it's important to know where the property line ends. In many cases, even though the house seems to sit on the shores of the beach, the property line ends just short of the waters. This means that your private oasis might not be quite so private. In fact, it's actually completely accessible to any member of the public.
The Property
While it's easy to be dazzled by the splendor of a truly impressive beachfront home, it's important to remember that the property is more important than the house. Old houses can be refurbished, or even completely demolished, if you don't like them. The property, however, isn't easily altered. In many instances, it's impossible.
Especially in a community like Destin, there are plenty of options when it comes to buying waterfront real estate. The finger isles on the south side of the Destin Harbour are perfect for the homeowner who wants a convenient space to dock their boat steps from their back yard, but they may not be the best for a homeowner who desires absolute privacy as the lots can be quite narrow. In that case, a larger home on the north shore where lot sizes are substantially larger might be more ideal.
Your Lifestyle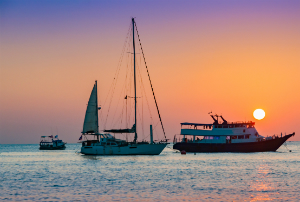 It's also important to consider why you want to live on the water. Are you simply looking forward to stellar ocean views that you can appreciate day in and day out as you sip your morning coffee? Or are you a boating enthusiast who's hoping to take the boat out three or four times a week? Even if the property you're looking at comes with a dock, it's important to do your due diligence and find out what the depths are. The depths required by a sail boat versus a power boat versus a pontoon are all quite different. If there isn't a dock, would you be building one, and would the local government even allow you to build there?
Perhaps you're a swimmer. This leads to a different set of concerns. Is the water crystal clear or a popular hangout of seaweed and murk? Likewise, is it perfect for a relaxing morning swim, or is it a popular spot amongst speed boats and other water traffic?
The Upkeep
Homes on the ocean shores may look like they're ready for a photoshoot in a homeowner's magazine, but the image isn't without tremendous effort. Waterfront homes have higher upkeep requirements than most other homes. The mixture of salt air, strong winds, and heightened vulnerability to storms makes them a prime candidate for regular maintenance. While some houses may come equipped with hurricane proof glass and durable siding, other homes will need storm proofing updates or a commitment on the homeowner's part to do regular maintenance.
It's also worth mentioning that additional insurance is often a requirement with these oceanfront estates.
While purchasing a Destin waterfront home for sale might not be easy, working with the Chris Carter Team is. As experts on the Destin real estate market, we'll bring years of knowledge and experience to the table so that you can make your next home purchase worry-free, just like your ideal Destin waterfront home. Contact the Chris Carter Team to get started.