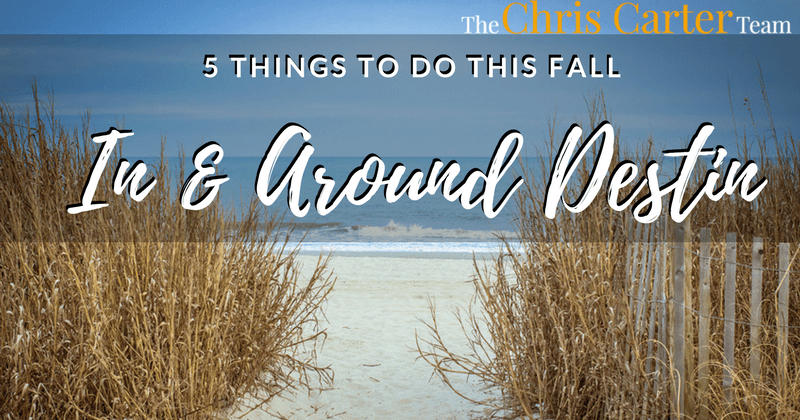 The state of Florida is blessed with exceptional weather. While the rest of the nation turns up the heat and buckles down for snow, Floridians still find themselves enjoying sunshine and mild temperatures in the 70s. In Destin, fall is still a perfect time to get outside and enjoy one of the 200+ days of sunshine the state enjoys annually.
Here are 5 things to do this fall in and around Destin.
1. Explore A Fall Festival
Destin is home to many different fall festivals throughout the months of September and October. Fall concerts, triathlons, art fairs, and seafood festivals are just a few of the different kinds of events that this dynamic community hosts through the fall months.
The Destin Seafood Festival is in its 39th year and is held during the first week of October. The event is held along the picturesque Destin Harbor Boardwalk and features fresh local seafood, live music, local art, kids' activities, and fireworks. Admission is free, and the event runs for three days.
On October 4th, the 10th Annual Baytowne Beer Festival will be kicking off. The festival plans to showcase more than 200 domestic and international craft brews. All of these will be available for sampling, and brewery representatives will be there to provide additional information about the different kinds of lagers and ales.
As the month of October comes to a close, Destin gets into the Halloween spirit and celebrates Pumpkinpalooza Weekend. Kids will enjoy trick-or-treating along the Destin boardwalk and watching the fireworks. Make sure that every member of the family comes dressed to the nines as there is a costume contest for adults, kids, and even pets!
2. Enjoy A Day On The Boat
Destin is affectionately known as the luckiest fishing village in the world for good reason. The Destin Fishing Rodeois a popular fishing event that extends throughout the month of October. October is a great month to catch blackfin tuna, king mackerel, gag grouper, and shark.
Amberjack is another popular catch in October. Amberjack is a delicious fish to cook up for dinner. In fact, the Amberjack Sandwich is a semi-famous dish at The Back Porch restaurant in Destin. Fishermen will also find sailfish cruising the waters at this time of year. These impressive fish can reach speeds of 68 miles per hour, making them a favorite of sport fishermen.
3. Connect With Nature
As temperatures dip and many species start to migrate, fall can make for a great time to connect with nature. Consider hiking or biking one of the trails in the area. If you are a fan of wildlife photography, this season may hold even more appeal. Someone with a sharp eye might catch a glimpse of foxes, bald eagles, migratory birds, dolphins, and many other kinds of local wildlife. The Destin area also experiences an influx of dragonflies and monarch butterflies at this time of year too.
Henderson Beach State Park is a great location to visit. The state park has more than 6,000 feet of shoreline and a network of nature trails. It's also a great place to catch a sunset. Autumn sunsets are some of the most colorful of the year.
4. Hit The Fairways
Fall's lower temperatures provide those who love to golf with an appealing opportunity to hit the fairways. The Florida Panhandle is a great locale for golfers. Fairways are numerous, and the majority of them offer startlingly beautiful views of the water. Most residents of Destin are no more than a few minutes' drive from a local golf course.
Here are some of the most highly rated golf courses in the area are:
5. Take Up a New Hobby
As the rush of summer barbecues and weekend vacations comes to a close and the kids head back to school, it's a good time to consider picking up a new hobby. Fall often means shorter days and more time spent inside, and that's why it can be a great time to start up a new project.
If you're an artist at heart, it might be a good time to revisit painting, pastels, or pencils. In addition to being surrounded by the incredible natural beauty of the Emerald Coast, the Festival of Arts happens each fall and is a great source of inspiration for many local artists.
If you like to work with your hands, fall might be a good time to explore your passion for carpentry, metalwork, or blowing glass. Other hobbies might include curling up with a good book, starting a new television series, or sewing.