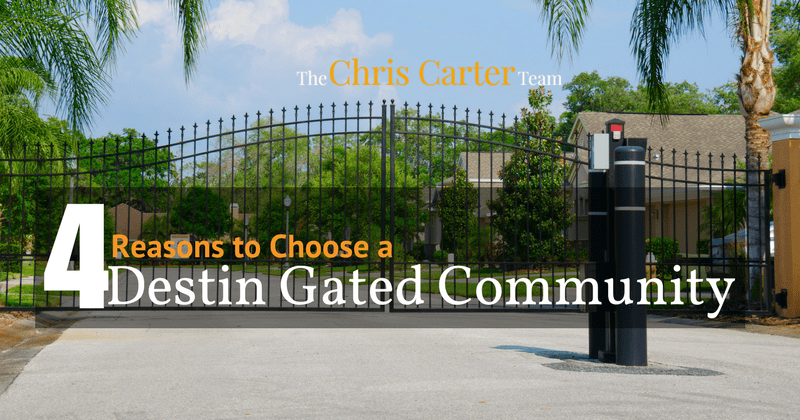 Gated communities are the popular community choice throughout Florida, and the Greater Destin area is no different. This style of living can't be pigeon-holed into a specific property type or demographic of owner either - you'll find gated communities with an entire spectrum of fantastic amenities and property styles to suit just about every lifestyle.
What are you waiting for - here are 4 reasons you should choose a Destin gated community.
1 - Privacy
This is the obvious one. The most prominent feature of a gated community is naturally the wall that surrounds it. It can be a dangerous world out there and many home buyers find solace in the protected confines offered by a gated community. Beyond protection from crime and vandalism, home buyers find that the only solicitors knocking on their doors are fundraising local children selling chocolate bars.
Simply having a wall isn't the be all end all in protection, but it does go a long way. There is a range of protection that exists across gated communities as well. At the bottom end, you'll find a gate with simple key-code access, on the upper end of the spectrum you'll discover a manned guardhouse, complete with 24/7 security guard.
2 - Reduced Traffic
Reduced traffic lends itself to a quiet, sedate lifestyle that many crave, even within larger cities. The controlled access maintained in a gated community successfully sidesteps the issue many busy neighborhood have with large amounts of through traffic. As a resident of a gated community, you'll never have to contend with traffic from surrounding areas making their way to work.
This also makes for a safer environment for children. Bring back the good ol days when you could let your children play in the streets, without worrying about traffic and excessive speed.
3- Stricter Regulations
Have an issue with sloppy neighbors, unkempt lawns or junk strewn across nearby properties? Not in a gated community. Many aspects of everyday life will overseen by the community's local Home Owners Association, or HOA. This governing body will have the power to levy fines against neighbors who let certain things slide. The HOA is responsible for ensuring that local home owners adhere to a consistent style and maintain their properties to the community's standard.
Homes within a gated community are also often constructed with a unified vision in mind, and with fewer builder's involved, there will be better unity in their style.
4 -Added Benefits
We'd be remiss if we didn't mention the plethora of added benefits that come included with many modern gated communities. Today's master-planned developments are designed as miniature cities, complete with every convenience. Although owners in these types of communities do regularly leave their protected enclaves, they certainly don't need to.
Even smaller gated communities often boast central, members-only amenities that can range from a clubhouse with pool and patio space, to a full golf course.