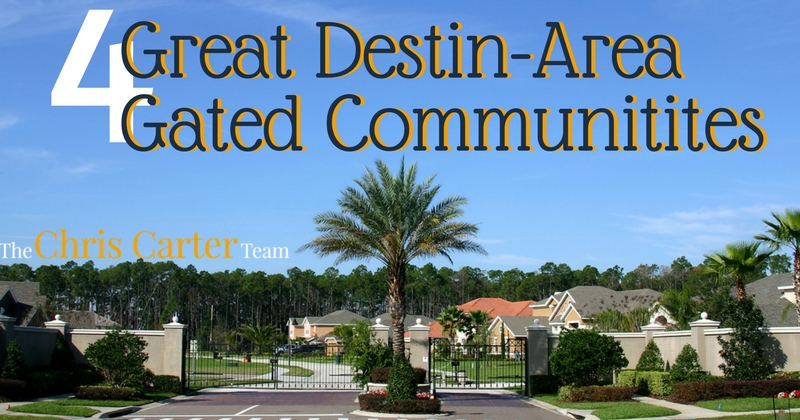 Destin, Florida is a dream come true for anyone who enjoys warm weather, white-sand beaches, friendly people, golf, and the ocean. Even better are the private, gated communities available throughout the city. They're safe, well cared for, beautiful, and absolutely wonderful for anyone whether they are students, retirees, small business owners, or families.
Four of the top gated communities in Destin boast luxury living, a real community vibe, large homes, beach front properties, vacation rentals, 24-hour security, and more!
Sandestin
Located in Miramar Beach, the Sandestin Resort is the most prestigious and well-known collection of gated communities in Florida. The sheer size of it attracts hundreds of people each year. Like a city all on its own, it has amenities galore, including shopping, fishing, and an incredible waterfront.
All 2,400 acres of this resort is dedicated to the people who either live there, rent, or visit. Believe it or not, it is currently home to 30 neighborhoods, all of which have access to everything Sandestin has to offer.
Quartz sand beaches are a popular draw for people; you can't find them anywhere else in the state! Homes are numerous and full of variety. Currently, prices range from under $200,000 to more than $2 million.
Destiny by the Sea
Destiny by the Sea is a massive gated community with some of the largest houses available in Destin. Huge and opulent, these homes are the epitome of luxury living. The community itself is popular due to its location, which is directly on the ocean. All you need to do to get there is open your front door and walk out onto the beach.
This lovely community is just as well known for its excellent security. Amenities are also absolutely outstanding and can include private pool access, free Wi-Fi, and BBQ pits, great for entertaining guests. Currently, prices range from under $1 million to more than $4 million.
Emerald Bay
What could be better than the ocean when it comes to Florida? Golfing of course! If Emerald Bay is known for anything, it has to be golf. This stunning community surrounds a massive 18-hole golf course created by one of the country's top designers.
Golf isn't the only perk though! Emerald Bay is nestled right on the edge of Choctawhatchee Bay, which is famous for exquisite white-sand beaches and fishing opportunities. Mediterranean-style homes are prominent in the community, with red-tile roofs, stucco, and massive outdoor living areas. Currently, prices range from under $500,000 to more than $800,000.
Regatta Bay
Regatta Bay is also well known for its golfing opportunities. In fact, the golf courses surrounding the community are considered some of the best in the entire world. People come from all over the map to check out the incredible greens. So if golfing is your game, then this is definitely the place for you!
This incredible community also has some unbelievable amenities, all of which are available to residents. There are playgrounds, swimming pools, golf, tennis, and excellent security. Pets are allowed, too, which is an added bonus. Waterfront is breathtaking and within walking distance of golf paradise. Prices range in price from under $500,000 to more than $3 million.