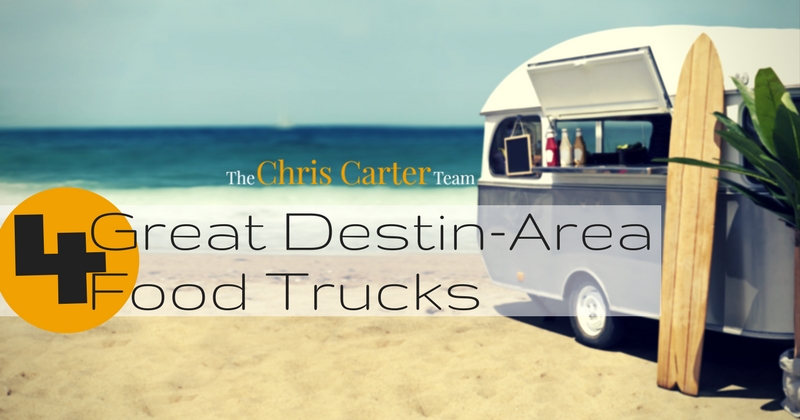 Food trucks are growing in popularity in Florida, and in the year 2017 they're more prominent than ever before. They can be found virtually anywhere because they can move from one place to the other, especially during events and festivals. What better way is there to compliment a fun day at the beach?
Even better, they are subject to the same health regulations as restaurants, so you can rest assured that the best ones are safe and full of fantastic food. Destin has some of the most incredible food trucks in the state; they won't disappoint with some of the freshest food around!
Coastal Chow
Coastal Chow is a food truck that you've got to experience to believe. It has some of the finest fusion food in Florida! Its specialty is Asian and Caribbean food that is fresh, affordable, and delicious. You can even use Coastal Chow for large groups such as weddings or annual events.
The staff is professional and friendly, and they're always willing to offer the best that they have to offer. Experience food such as spring rolls with peanut sauce, various kinds of rice bowls, lumpia, Bulgigi, Bao buns, and rice balls. They have truly mastered the art of flavor!
Megan's Sunshine Café
The location of Megan's Sunshine Café alone is absolutely epic. Situated within a charming courtyard in Crestview, it boasts healthy salads and mouthwatering paninis. All of its incredible food is vegetarian-based cuisine.
Enjoy an elegant and large menu with plenty of choices. Some signature foods include frito pies, veggie sandwiches, and various types of paninis and sandwiches that you won't find anywhere else. Choose from Mediterranean, Italian, Southwestern, and chickpea.
Salads are out of this world, with choices between house, southwestern, Greek, and Quinoa. Soups are different each week, with some choices including squash and lentil. One of the most unique things about Megan's Sunshine Café is the owner's ability to mix up different spices and serve new and exciting things from week to week.
The Philly Cheesesteak Factory
If you're looking for an outstanding Philly cheesesteak, look no further than The Philly Cheesesteak Factory. It is well known for its unbelievable service and friendly owner. More than that, its food is of the finest quality. There's no way you'll be disappointed in the meat, cheese, and onions. Add peppers and mushrooms for an even more delicious meal.
Choose between full sandwiches and half servings. Also check out extras, such as fresh soups and drinks. Onions are caramelized right there in the food truck for the most authentic taste possible! Something everyone always raves about, too, are the incredible prices.
Wine Not Florida
As long as the Wine Not Florida food truck is around, you'll never feel overheated again! This food truck serves the most decadent adult ice cream and sorbet in the state. Never fear, though, kids can have their choice of frozen treats, too! They can pick from slushies to sorbets to ice creams, all in exciting flavors. Strawberry, vanilla, raspberry, and chocolate are among the top favorites.
Some intriguing and exciting flavors for adults include strawberry zinfandel, wine slushies, raspberry and white chocolate, acai bowls, and more! Also enjoy a warm cup of either hot or iced coffee that's brewed right there at the shop. To top it all off, the area is wheelchair accessible, offers military discounts, and boasts great Wifi!