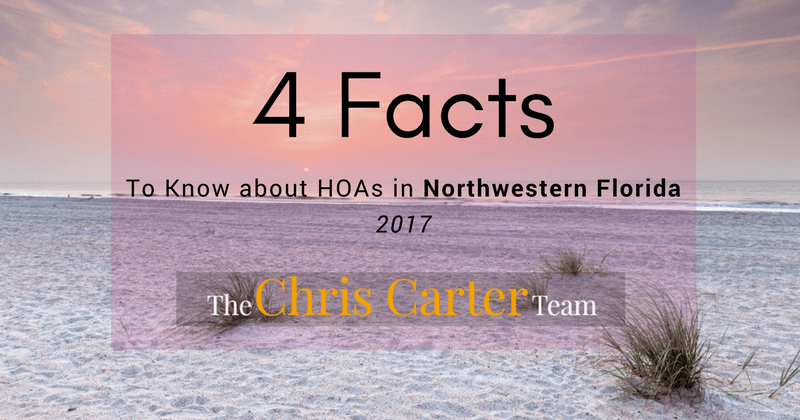 Northwestern Florida provides a coveted lifestyle with its beautiful white sand beaches, sunshine, and plenty of desirable real estate. One of the most popular residential developments found in Florida is master-planned communities, which always include an Home Owner's Association or HOA. This is highly attractive to many for the simplicity, and quality of life that comes with this style of residence. It's one of the best ways to enjoy all of what the Northwestern Florida lifestyle has to offer by providing homeowners with low-maintenance living. This is made possible by having an HOA within a master-planned community.
The HOA is the ruling and administration organization in a development and is typically comprised of an HOA board that is made up of volunteer homeowners. Use this guide to learn more about HOAs before you consider your next real estate investment.
1. Fees and Dues
Homeowners' association dues will vary depending on the number of amenities available to the homeowners, as well as the size of the community. Some fees will only cover maintenance of common spaces such as, lakes, ponds, medians, and right of ways. Other potential dues will cover things like upkeep of community streets, lights, and landscaping. Some communities work out a deal for a group rate on cable or internet access with service providers.
An HOA often takes the failure of payment of homeowner's dues very seriously. In most cases, if you get far enough behind on your payments, the association will place a lien on your property that can result in foreclosure. Keep in mind that the developer is in charge of HOA's until the development is over 90% sold or filled.
Tip: Don't forget to factor HOA fees into your budget before making a purchase. Consider the cost of maintenance if you were to do it on your own.
2. Common Rules and Regulations (C & R's)
It's typical for a community with an HOA to have rules and regulations, or covenants and restrictions. Some common rules and regulations that may be found in the documents are:
Fences: some communities have restrictions on what kind of fence you may have, in terms of color, material, styles, and height. If you have pets that require a fenced in property, make sure to find a community that allows this.
Changes to the exterior of your home: Most HOA's require that an architectural or design review committee approve proposed changes you wish to make. This may include adding a swimming pool, painting your home, adding a patio, or additional landscaping.
Pets: Some communities have restrictions on the number of pets you may have in a home, including their size.
Tip: Ask for a copy of all the C & R's that pertain to your home ownership and community, before signing a purchase agreement. Make sure it's contingent on your comprehension and approval of the C & R's.
3. Enhancing and Protecting Home Values
When you're investing in real estate, one of the best parts of owing in a community with an HOA is the advantage that comes with preserving your community and property. All of the fees and restrictions serve the important purpose of protecting your home values. This will ensure a stronger ROI down the road, should you consider selling. Most agents and appraisers will agree that communities taken care of by HOA's have solid track records of increasing home values.
Tip: Ask your agent or the HOA for a record of home values in the last five years. It's good to know the history of your community's real estate for a better gauge of what your home could be worth in the future.
4. Special Assessments
For condo owners, it's good to keep in mind that the development you live succumbs to a special assessment. A special assessment is something that is necessary for the overall well-being and condition of the building, such as new windows or unexpected repairs that go above usual repairs. A condo development typically has a reserve set aside for these types of events but sometimes there are not enough funds to pay for what needs to be completed.
Tip: If you're on a tight budget or have a fixed income, you may want to rethink your investment.